Dear Friends,
Greetings in the Name and Power of Our Lord Jesus Christ. Our prayer at Hope Ranch for each of you during this Holy Week is that you will remember how deep, how high, how far and how wide our Father's love is for you and that you would feel His peace that transcends all understanding!
Last week I headed to the Residential Home to drop off Rosa, the therapy dog that was donated to Hope Ranch. As I entered the house, Karen, our Residential Director, met me at the door with a worried look on her face. She said I had come just in time, because the women had all been fighting and were sent to their bedrooms to cool off. As Karen was still speaking, I heard one of the girls scream out in anger. I was almost devastated. I walked up the stairs and with each step prayed, "God, I don't have it in me to handle one more crisis right now. MAY DAY, MAY DAY….I need you!" The hallway to their rooms was dark and the rest of the staff were praying. I knocked on one door and went in to find both women quietly sitting on their beds. I asked what happened. Then I heard two little voices from the other rooms sweetly say, "April Fools."
The women came out giggling and laughing. They got me. But most of all they reminded me that there is joy in the midst of these trying days. I am so thankful for these special moments.
Volunteer Spotlight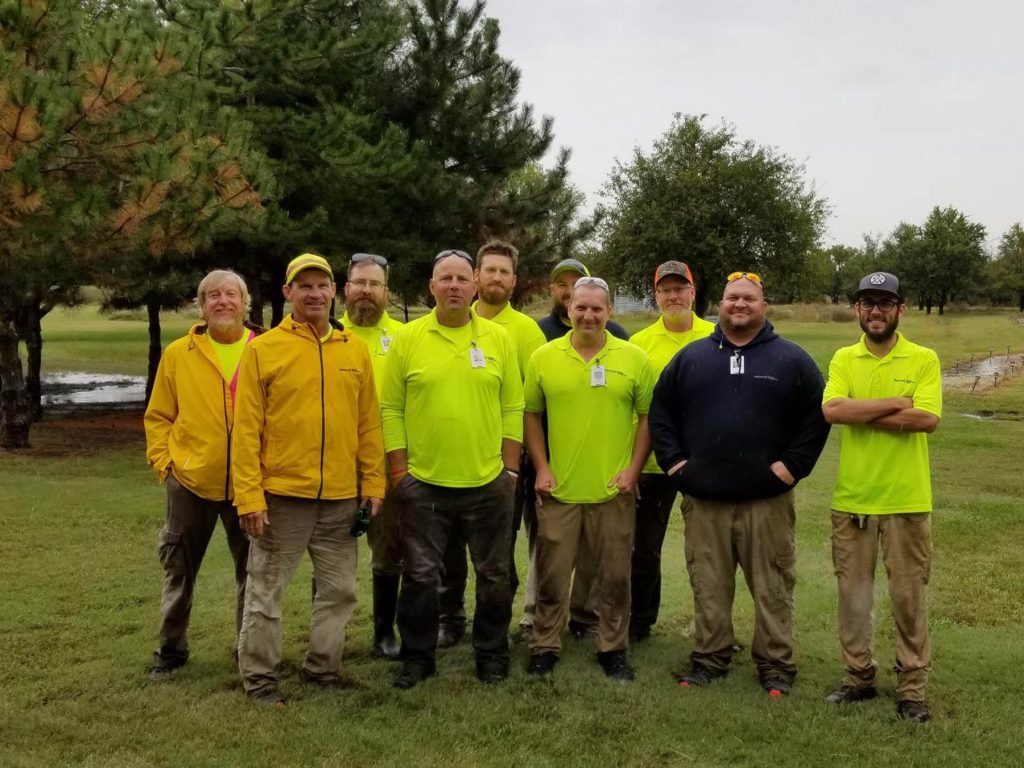 Hope Ranch For Women would like to thank Kevin Frack, the team of Medxcel Facilities Management in Wichita and Medxcel Corporate Office for their gift to Hope Ranch. This year Medexcel is donating the chemical treatment and weed control of the lawn at Hope Ranch For Women. The Wichita Team also spent a day last fall trimming trees as well as donated and planted a tree for the front yard.
When asked how serving at Hope Ranch impacted his team, Kevin Frack Landscape Manager said, "I think it is best to start with this scripture from Matthew 5:16 which says, 'In the same way; let your light shine before others; that they may see your good deeds and glorify your Father in heaven.'"
Kevin continued, "Our leadership has greatly encouraged us to serve our community. It first starts at our Corporate office in Indianapolis who has encouraged each of our locations across the country. As a manager, I have found that the time spent helping community groups has made my team stronger and united. It is amazing to see everyone put away their own selfish actions and work towards a common goal to help someone else. We are thankful to be able to use our talents and knowledge to help."
Thank you Kevin and your Medxcel Team. It is because of groups like you we can do what we do.
Ways you can help
Invite your friends to join you in giving
Volunteer for summer projects around the home, painting at the Equine Location, etc
Become a mentor
Contact: admin@hr4w.com
Volunteer for the Lawn Mowing Team for Summer of 2020
Contact: admin@hr4w.com
Provide gift cards to Walmart, Target, Hobby Lobby, Quick Trip, etc
Mail to: PO Box 226 Andover, KS 67002
Become a prayer partner
Contact: admin@hr4w.com
Prayer Requests
Mentoring
Mentors and mentees would still be able to creatively connect regularly while practicing social distancing.
For the mentees who live alone – that they would enjoy the relationship they have in Jesus and focus on His love for them plus other truths about God to keep them from depression.
For the ones who have lost their jobs to trust God for their provision and to practice good financial management of what He has already given them.
That this would be a time where their faith becomes deep and strong as they experience God's faithfulness and trustworthiness in new ways.
Equine
Protection and provision for all volunteers and horses.
A person to answer the call to serve as an Operations Coordinator for Equine.
Residential
For God's peace as the residents experience higher anxiety due to covid-19.
For a local psychiatrist who would assist us with mental health diagnosis at no or low cost after intake of new residents.
For a dentist who would assist us with donated services.
Praises
Two residents in Phase II completed a 40 hr Work4ALiving class.
Two residents in Phase I are overcoming addiction temptations to relapse.
Staff remains strong and healthy.
I along with the HR4W team are praying for you. We are praying for your peace, joy, health and provision during these very uncertain times. Please let us know how we can pray for you. As we gather in our teams we pray for you on a daily basis. You are vital to our work.
From the entire Hope Ranch Team, Thank you and may the Lord cover you with His Presence during this Easter/Passover Week.
Warmly,

Cathy Turner
Hope Ranch for Women, President and CEO